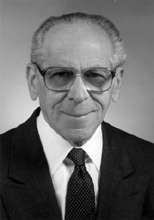 Thomas Stephen Szasz
April 15, 1920-September 8, 2012
The last three minutes of Thomas Szasz's last interview

This three-minute excerpt is posted here by permission of the producers, Andrew Lyman-Clarke, Editor/Distribution Associate, Witness Films, 802-578-3625. The film was directed and the interview was done by Philip Singer, Ph.D. See http://www.witnessfilms.com/documentary. If you would like to purchase the hour-long documentary interview with Professor Szasz, go to http://www.witnessfilms.com/documentary.
It is definitely worth purchasing the hour-long film. These film makers are first rate.

The purpose of this site is to advance the debate about Thomas S. Szasz's basic ideas and their practical implications.
This is the only official Szasz site. It was created, constructed, and produced by Jeffrey A. Schaler, Ph.D. with the permission and guidance over the course of many years from his close friend and colleague, Professor Thomas S. Szasz. This site was given to Dr. Schaler by Dr. Szasz. All rights reserved.
I produced and created this site as a public education service. I make no money on this site. Anyone and everyone is free to use material on this site, however, we do require that if you use material, please acknowledge the source, that is www.szasz.com, and include the following statement with any photograph or text that you want to use:
Reproduced with the permission of Jeffrey A. Schaler. All rights reserved.
Thomas Szasz and Jeff Schaler suggest that visitors to this site read the following summary statement as a manifesto...a summary statement of Dr. Szasz's work and ideas.
Please note: Neither Thomas S. Szasz, MD, nor Jeffrey A. Schaler, Ph.D., are "anti-psychiatrists." We both believe in psychiatry between consenting adults. We are opposed to institutional psychiatry and coercion. We are not opposed to contractual or consenual psychoanalysis, psychotherapy, or counseling, what have you, as long as the designated client is able to fire his or her therapist at any time. Obviously we do not consider drugs as medicine for behavior. If people want to take drugs to control the way they think, feel, behave and perceive, by all means they should be free to do so. See Szasz's important work: Antipsychiatry: Quackery Squared, published by Syracuse University Press, Syracuse, NY, 2009. See the review by Dr. Ron Roberts in The Freeman, September 22, 2010.
It is my hope that I will establish a "szasz blog" here on the site, for contributions and discussions.
This is szasz.com!

If you talk to God, you are praying;
If God talks to you, you have schizophrenia.
--Thomas S. Szasz, The Second Sin, Anchor/Doubleday, Garden City, NY. 1973, p. 113.
It takes an iconoclast with temerity and acumen to illuminate how unexamined myths and metaphors insidiously determine prevailing norms -- norms considered unassailable and sacrosanct by the prevailing medical/legal system. For decades, Thomas Szasz has publicly challenged the excesses that obscure reason. The Medicalization of Everyday Life offers a no-nonsense perspective on prevailing dogma. It is only through clear vision that intelligent choices can be made. Required reading for all professionals in health care fields, and all those who are subject to their unwitting prejudices.
--Jeffrey K. Zeig, Ph.D., Director, The Milton Erickson Foundation
Praise from George Annas for Coercion as Cure: A Critical History of Psychiatry, by Thomas Szasz, published by Transaction Publishers, New Brunswich,
New Jersey, 2007:
A powerful and fittingly impassioned indictment of psychiatrists who use coercion to "treat" patients by the psychiatrist who has done more than anyone else to challenge psychiatry to abandon the destructive use of force and replace it with consent, trust, and adherence to the Hippocratic injunction to "do no harm."

George J. Annas, J.D., M.P.H.
Edward Utley Professor and Chair
Department of Health Law, Bioethics & Human Rights
Boston University School of Public Health
Author of The Rights of Patients
Grand Rounds, Department of Psychiatry, Upstate Medical University, Syracuse, New York
Several interesting and outstanding events and activities are occurring as Grand Rounds at the Department of Psychiatry, Upstate Medical University. This year kicks off a sincere appreciation and CELEBRATION of Thomas Szasz's remarkable life and contributions to liberty and responsibility. Many colleagues were and are privileged to call themselves close friends of Tom Szasz (with apologies to Bill Clinton . . . ).

It was a great honor for me to be invited by Professor Chaitanya Haldipur, and former chair of the psychiatry department at Upstate Medical University Professor Mantosh Dewan, to give the first Grand Rounds lecture in honor of Tom on Thursday, February 13, 2014, at 12:30pm, at Upstate Medical University in Syracuse, New York. The title of my talk was: Games Psychiatrists Play .

Chaitanya Haldipur, long a close friend of Tom's and I am honored to say a friend of mine, took me out for a wonderful Italian dinner the night before my lecture, and Mantosh Dewan, former chair of the Dept of Psychiatry for many years, introduced me at the start of my talk. I must say it was one of the nicest introductions I have ever received. (It sure was a long way from how I was treated after teaching for 22 years at American University's Department of Justice, Law and Society, in the School of Public Affairs!)

Mantosh gave an equally beautiful appreciation of Tom at the start of our symposium in honor of Tom's eightieth birthday in Weiskotten Hall, years ago. When it comes to appreciation and introductions, no one speaks more eloquently and more sincerely than Mantosh. What a wonderful person.

It was a full house on Thursday, February 13, 2014, when I spoke after lunch at 12:30pm. You are welcome to read the handout I gave to those who attended my talk, again, an invited lecture for Grand Rounds, "kicking off the year of celebrating their beloved Thomas Szasz" in a series of forthcoming Grand Rounds.

I enjoyed seeing many of the friends I made at the celebration and symposium Nelson Borelli, MD, of Northwestern University Medical School, and I put together in honor of Tom's eightieth birthday. See the 80th birthday program and symposium in Tom's honor here.

Another important Grand Rounds gathering was scheduled for August 8, 2014. "Celebration of the Life and Work of Thomas Szasz" Save-The-Date, Pre-registration is Required, Friday, August 8, 2014, Everson Museum, in Syracuse, 8am to 3pm - reception to follow. Contact Cassandra Read (readc@upstate.edu) if you want to attend. Travel to Syracuse to attend this historic gathering. Register NOW! Location is Hosmer Auditorium of the Everson Museum of Art, 401 Harrison Street, Syracuse, New York. 8:00am to 3:00pm. Reception to follow from 3:00pm to 5:00pm. For further information, please contact Linette Thorp at (315) 464-3104, or, by email at thorpl@upstate.edu. This event is free, but pre-registration is required. Registration deadline is August 6, 2014. See the program here.

Here is an outstanding essay originally published in Current Psychology a peer-reviewed international quarterly journal, entitled "On Being Sane in an Insane Place: The Rosenhan Experiment in the Laboratory of Plautus' Epidamnus," December 2013, Volume 32, Number 4, pp. 348-365, by Professor Michael Scott Fontaine, Department of Classics, Cornell University. For more about Current Psychology see the greeting by the new Editor-in-Chief Professor Richard Ferraro. Readers here and elsewhere may be interested in reading the special issue I published and co-edited with my late colleague University Professor Rita J. Simon entitled entitled "Anti-Semitism the World Over in the 21st Century,"Current Psychology DOI 10.1007/s12144-007-9012-8.

Michael was a friend of Tom's, and Michael and I quickly became friends when he contacted me out of the blue and showed me the essay he had written. I was bowled over, as was Professor Emeritus Chaitanya Haldipur when I sent it to him for review. Michael is a terrific writer. For a Professor of Classics at Cornell to grasp the significance and relevance of Rosenhan and Tom's work is phenomenal. I was then working on the last issue of Current Psychology as Editor-in-Chief the past eight years. I imnmediately included it, after it was instantly accepted by two other colleagues of mine in the peer-reviewed process, (I finished my eight year tenure as Editor-in-Chief of Current Psychology effective December 31, 2013.) Note: Professor Michael S. Fontaine is the featured speaker for "Grand Rounds," sponsored by the Department of Psychiatry at Upstate Medical University, Syracuse, New York, on September 11, 2014 from 12:30-2:00 pm. Dr. Fontaine will discuss this article, and share some of his experiences with Thomas Szasz. Szasz read Michael's article before it was edited and published by myself. Tom praised Michael for what he had written. This is a terrific essay, written by an outstanding Professor of Classics at Cornell. I STRONGLY encourage you to attend what is sure to be an enlightening lecture.

Michael took me out for a memorable lunch at the Moosewood Restaurant, where we also indulged in a couple of equally strong margaritas, in mid-afternoon . . . ! Report on The Celebration of the Life and Work of Thomas Szasz sponsored by the Department of Psychiatry at Upstate Medical University August 8, 2014 by Michael S. Fontaine.

Other Articles
"Idleness and Lawlessness in the Therapeutic State," by Thomas Szasz, SOCIETYMay/June, feature article, pp. 30-35

"Debunking Antipsychiatry: Laing, Law, and Largactil," by Thomas Szasz. Current Psychology, volume 27, number 2, June 2008, pp. 79-101

Here is an excellent essay I used in college classes for many years. Interestingly. those on the political left opposed to capital punishment, always asserted that capital punishment was "too easy" for the guilty defendant. They consistently wanted defendants found guilty of murder to suffer throughout out the course of their lifetimes, via life imprisonment. They opposed the death penalty because they though the guilty defendant was not suffering enough. To my way of thinking, this reveals the sadistic nature of their their rationale. Too many faculty at American University wanted sadistic murderers to suffer over the course of their lifetime, and not have their suffering ended quickly via a death penalty.

Not all libertarians agree with Szasz about the myth of mental illness . . . "Is mental illness a myth?" by Marty L. Zupan, reason, volume 5/number 3, August 1973

The Manufacture of Madness by Thomas Szasz, translated completely in Russian (valuable!)

Obituary of Thomas Szasz in the British Medical Journal, October 12, 2012
Correspondence between Drs. Charles Aring and Thomas Szasz circa 1970s, 1980s
"The psychiatric protection order for the 'battered mental patient'," by Thomas Szasz, British Medical JournalBMJ 2003;327:1449
See Fifty Years After The Myth of Mental Illness.
And this is the preface for the new edition of The Myth of Mental Illness. February 23, 2010. "The myth of mental illness: 50 years later," Psychiatric Bulletin, SPECIAL ARTICLES. (Note: This paper was delivered as a plenary address at the International Congress of the Royal College of Psychiatrists in Edinburgh, 24 June 2010.
Also published in The Psychiatrist Online, May 2011, 35:179-182, doi:10.1192/pb.bp.110.031310
"Second Commentary on 'Aristotle's Function Argument,'" by Thomas Szasz, in Philosophy, Psychiatry & Psychology, Vol. 7, No. 1/March 2000, pp. 3-16
"'Freedom is more important than health': Thomas Szasz and the problem of paternalism," Special Paper by Joanna Moncrieff, rebuttal entitled "The legacy -- or not -- of Dr Thomas Szasz (1920-2012)," by Trevor Turner. International Psychiatry, 2014, 11, pp. 46-49.
"Thomas Szasz obituary," by Anthony Stadlen, The Guardian, October 4, 2012
Longer obituary for Thomas Szasz by Anthony Stadlen

"Psichiatria/Informazione, Associazione Per La Lotta Contro Le Malattie Mentali, III 2012, Numero 44" Requiem Per Thomas Szasz, Scritto da Tristano Jonathan Ajmone
"What is Psychiatry?" The American Journal of Psychiatry, Editorial, 154:5, May 1997
The Psychiatrist in Court: People of the State of California v. Darlin June Cromer (1980) (Contains important transcript of Szasz testimony)
Thomas Szasz, MD: Philosopher, Psychiatrist, Libertarian," By Eric v.d. Luft, Ph.D., M.L.S., Curator of Historical Collections, Health Sciences Library, Alumni Journal, Summer, 2001, pp. 9 - 12.
The historical account of the attempt to fire Szasz from the Upstate Medical Center in Syracuse, by the then Director of the New York Department of Mental Hygiene, Paul Hoch, MD., was written by Jeffrey A. Schaler, under the strict supervision of Professor Thomas Szasz. Szasz Under Fire: The Psychiatric Abolitionist Faces His Critics, Edited by Jeffrey A. Schaler, Open Court Publishing, Chicago, 2004

This book also contains the only written autobiography by Thomas Szasz. Note that when this book was published, The New England Journal of Medicine
AND the Journal of the American Medical Association BOTH published reviews of the book simultaneously. (See more reviews here.) Praise also came from George Annas for Szasz Under Fire: The Psychiatric Abolitionist Faces His Critics, edited by Jeffrey A. Schaler, published by Open Court Publishers, Chicago, 2004: "Anyone who has ever had qualms about the state giving psychiatrists the power to use drugs and civil commitment to control its citizens on the basis of 'mental illness' will be deeply rewarded by this stellar intellectual performance by Szasz, who not only holds his liberty-centered ground, but often gains more in direct and sometimes brutally frank responses to his critics and would-be reshapers of his life's work."
Faith in Freedom: Libertarian Principles and Psychiatric Practices wins the Laissez Faire Books "Lysander Spooner Award for Advancing the Literature of Liberty!"
Thomas Szasz receives the American Hungarian Foundation's 2004 George Washington Award, New York, Waldorf Astoria Hotel, November 11, 2003. See Schaler's introduction of Dr. Szasz, upon receiving this award, as requested by Dr. Szasz and the President of the American Hungarian Foundation
"Libertarian Principles and Psychiatric Practices: Are They Compatible?," Cato Lecture, September 25, 2003
See, this by Tom Szasz entitled "Killing to be Kind"
Read "Psychiatry's Gentle Abolitionist," by Robert A. Baker, Ph.D. (scroll to the bottom of the link)

Read the interview with Thomas Szasz by Randall C. Wyatt entitled "Thomas Szasz on Freedom and Psychotherapy," January 2001
and this Link to the April 15, 2000 Szasz 80th Birthday Symposium,"Liberty and/or Psychiatry? 40 Years After The Myth of Mental Illness" here This was a spectacular gathering, symposium, and banquet, orchestrated by Jeffrey A. Schaler and Nelson Borelli, MD
See the Szaszian debate with Dr. Jeffrey A. Schaler and Jacob Sullum on one side, and Allen Frances, MD, Editor-in-Chief of the DSM (Diagnostic and Statistical Manual of the Mental Disorders), published by the American Psychiatric Association, Washington, D.C., and University of Maryland Baltimore Law Professor Amanda C. Pustilnik, on the other side. This is a great debate, sponsored by the prestigious Cato Foundation, and moderated by Editor: Jason Kuznicki. Cato Unbound is a forum for the discussion of diverse and often controversial ideas and opinions. The views expressed on the website belong to their authors alone and do not necessarily reflect the views of the staff or supporters of the Cato Institute.
Here is the first time Thomas Szasz used the term, the "therapeutic state," in writing. Check it out:
Although we may not know it, we have, in our day, witnessed the birth of the Therapeutic State. This is perhaps the major implication of psychiatry as an institution of social control.
--Thomas S. Szasz, Law, Liberty, and Psychiatry: An Inquiry Into the Social Uses of Mental Health Practices, The Macmillan Company, New York, 1963, p. 212.
(Many people do not realize that the term "the therapeutic state" was coined by Dr. Szasz. Many realize that it was, but refuse to acknowledge that Szasz coined the term. Worse, others act as though THEY coined the term. Cf: See a review of James Nolan's book entitled The Therapeutic State: Government at Century's End by Jeffrey A. Schaler which appeared in the prestigious SOCIETY magazine, published out of Rutgers--The State University, by Transaction Publishers, and judge for yourself whether plagiarism was committed.)
"Perhaps most radically ... Thomas Szasz deemed mental illness a mythic and monstrous beast, and proclaimed that 'mental illness' was a fiction. Insanity, he has continued ever since to claim, is not a real disease, whose nature has been progressively scientifically unveiled; mental illness is rather a myth, forged by psychiatrists for their own greater glory. Over the centuries, medical men and their supporters have been involved, argues Szasz, in a self-serving 'manufacture of madness.' In this, he indicts both the pretensions of organic psychiatry and the psychodynamic followers of Freud, whose notion of the 'unconscious' in effect breathed new life into the obsolete metaphysical Cartesian dualism. For Szasz, any expectation of finding the etiology of mental illness in body or mind -- above all in some mental underworld -- must be a lost cause, a dead-end, a linguistic error, and even an exercise in bad faith. 'Mental illness' or the 'unconscious' are not realities but at best metaphors. In promoting such ideas, psychiatrists have either been involved in improper cognitive imperialism or have rather naively pictorialized the psyche -- reifying the fictive substance behind the substantive. Properly speaking, contends Szasz, insanity is not a disease with origins to be excavated, but a behavior with meanings to be decoded. Social existence is a rule-governed game-playing ritual in which the mad person bends the rules and exploits the loopholes. Since the mad person is engaged in social performances that obey certain expectations so as to defy others, the pertinent questions are not about the origins, but about the conventions, of insanity. In this light, Szasz dismisses traditional approaches to the history of madness, as questions mal post and aims to reformulate them."
--From: Porter, R., "Introduction," in Porter, R. and Wright, D., eds.,The Confinement of the Insane: International Perspectives, 1800-1965 (Cambridge: Cambridge University Press, 2003); pp. 1-19; p. 2.
Cf. the following article by the late psychologist Theodore Sarbin entitled "On the Obsolescence of the Schizophrenia Hypothesis:. The similarity of Sarbin's thinking to Tom Szasz's regarding the myth of schizophrenia is uncanny, and I have never found any evidence to suggest that Sarbin stole any of Tom's idea's. Quite to the contrary, when I spoke at the American Psychological association in Boston, years ago, there was a failed attempt by several authors of the then DSM to ridicule me in public. Theodore Sarbin, who was given a prestigious award by the American Psychiatric Association then, rushed to my defense publicly and I will be forever grateful for what he said then. As Tom Szasz and I used to judge those colleague we considered courageous and smart, I refer to Theodore Sarbin as one "good guy." As Allen Frances, Editor-in-Chief of the DSM, said in my debate with him and elsewhere earlier, 'the DSM is bullshit.'" True believers take heed. JAS
The Affirmation of Experience: A contribution towards a science of social situations by Aaron Estersone, contribution by Anthony Stadlen
Szasz and the Unreliable Reader. When is a critique not a critique? A contribution by Anthony Stadlen

Existential Analysis, Journal of the Society for Existential Analysis, volume 24, number 1, contribution by Anthony Stadlen

Existential Analysis, Journal of the Society for Existential Analysis, volume 25, number 1, contribution by Anthony Stadlen

See also:
Thomas S. Szasz Cybercenter for Liberty and Responsibility:
Copyright
2007-2025 by the author of each page, except where noted. All rights reserved.